Village Voice - May, 2005


Notes from Hailey's Mom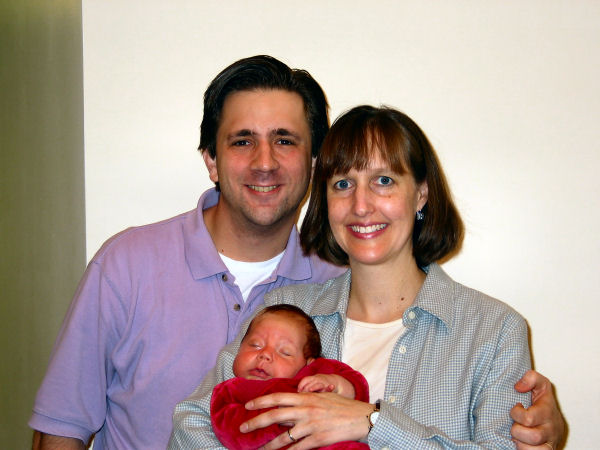 "Before you were conceived I wanted you,
Before you were born I loved you,
Before you were here an hour, I would die for you,
This is the miracle of life."
-- Maureen Hawkins
Ever since I was little, I dreamed of having a family: a caring husband and two children. Now, at thirty-eight, I think, "Wow, I am finally a mom!" It was a long wait. I gave birth to our wonderful daughter, Hailey Nicole, on November 30th, 2004, and Darian and I celebrate our fourth wedding anniversary this July 7th. I am blessed to have a loving husband and a wonderful little girl.
I love being Hailey's mom and I enjoy staying home with her. When Darian and I started contemplating having children, we realized that children and grad school would most likely coincide. We were unsure how we would manage financially; yet God has provided and keeps on providing. Many people gave us presents in anticipation of Hailey's arrival. Our church in Georgia threw us a virtual shower, Village gave us a wonderful surprise shower, relatives sent gifts, our neighbors gave presents, and friends and family all pitched in to provide the furniture, toys, books, and miscellaneous baby stuff needed for the nursery. People's generosity was overwhelming. We are so grateful that all we needed to purchase were curtains for Hailey's room -- what a blessing.


Words cannot adequately describe how blessed I feel to have a baby. I identify with my favorite author, Anne Lamott when she wrote, "...one thing about having a baby, is that each step of the way, you simply cannot imagine loving him any more than you already do, because you are bursting with love, loving as much as you are humanly capable of, and then you do; you love him even more."
Now that I have Hailey, I understand why my mom (my dad too) loves me so much and why she often worried about me. Having a child is like having the most precious, wonderful treasure. I love Hailey so deeply it almost hurts. I want to do everything within my power to ensure she grows up to be happy and healthy. When I have Hailey in the car, I am super vigilant. When a driver gets too close, because he is chatting on his/her cell phone or drinking his/her coffee, I want to scream, "Be careful! I have extremely, precious, cargo on board, Hailey Boggs, my amazing daughter."
God must have created babies to amaze us and put us in a state of awe. I am still amazed that Hailey came out of me and that my body is now back to normal. I am amazed that she came out complete, from her little head covered in slick, auburn hair, to her tiny blue feet. I am amazed, that from day one she smiled at us. I am amazed that she even smiled at us on day four when readmitted to the hospital, her tiny arm attached to an IV and her little six pound body placed in an incubator under fluorescent lights. I am amazed that my body provides Hailey with the only food she needs and that at four months she is already wearing some clothes in the six-month size. I am amazed that she belongs to me and I to her.
Thank you, God, for the gift of babies, who are all amazing and special. Thank you, God, for creating mothers to bring us into the world, to love and care for us with all their hearts.
Happy Mother's Day!
--Rebecca Boggs

---
FROM THE PASTOR

We had a guest preacher from Sri Lanka on April 10, Rev. Kingsley Perera, General Secretary and President Elect of the Sri Lanka Baptist Sangamaya (Union). Just before the beginning of the early service I tried to warn Kingsley that it might be a different worship style than he was accustomed too. I told him that in the early service the atmosphere is more free-flowing and informal, and the music is more upbeat and celebrative. Kingsley replied, "Oh, we have this type of worship in Sri Lanka too. It started with the charismatic churches, and now many Baptist churches blend praise songs with traditional hymns."

Church consultant Herb Miller notes that for worship to remain relevant churches must experience four transitions.


Transition # 1:

More Relational Warmth.

Worship attendees expect a greater


sense of friendliness and community.

Early in worship provide three minutes for


people to informally greet one another.





Transition # 2:

More Celebrative Style.

Generally speaking, adult worshippers


during the 1950s defined spiritually meaningful worship with the word meditation.


In contrast, today's adults define spiritually meaningful worship with the word


celebration.





Transition # 3:

More Musically Diverse.

About 50% of healthy churches offer


two kinds of worship services:

one with traditional hymns and the other with


contemporary hymns.

The other 50% of healthy churches offer worship that


"blends" gospel, traditional, and contemporary hymns.





Transition # 4:

More Visual Communication.

People who grew up watching


television find it more natural to receive information through a combination of


oral, visual, and symbol presentations instead of in a solely oral or printed format.

When I became pastor of Village in 1985, we had one Sunday morning worship service each week at 11:00 a.m.. The worship musical style was traditional, featuring hymns, some gospel songs, anthems, and classical music. It wasn't as formal as some churches, but we were accompanied by organ and piano, we sang the Doxology after we received the offering, and the adult choir sang responses (such as a call to worship, choral amen, and benediction). Although we have made some minor modifications over the years, that traditional style has remained largely unchanged at the 11:00 a.m. worship service. If anything, it has become slightly more formal with the addition of choir robes a few years ago.

About five years after I came as pastor, some members of our congregation began to push for a different style of worship. They wanted to sing more contemporary music; and they wanted a more informal atmosphere. After much research and planning, we began to offer a contemporary early service on Sunday mornings, in addition to the traditional 11:00 a.m. service. The early service is different. We sing contemporary praise songs accompanied by a synthesizer and praise ensemble. Sometimes people clap to the music. The words to the songs are projected on a screen, and sometimes there are slide shows before the service or visuals to illustrate the announcements. Some people may be more casually dressed at the early service than worshippers at the later service.

I like both of our Sunday morning worship services. I enjoy singing the great hymns of the faith. I thrill to the organ and piano. The music of Bach may be three centuries old, but there's a reason we call it "classical." I can relate to the reverential, meditative style of traditional worship. At the same time, I have come to appreciate more contemporary songs and praise choruses. The upbeat, celebrative style of music has me tapping my feet and singing with gusto. I like the warm, friendly "come as you are" atmosphere of contemporary worship.

Every Sunday during the school year I get the best of both worlds because I lead worship at both the contemporary and the traditional services. During the summer months, everyone has an opportunity to experience both styles of worship because we have one combined blended service, beginning at 10:00 a.m. This year we begin our blended, one-service format on Picnic Sunday, June 5. That's a change from previous years when we observed our summer schedule only in July and August. So, there will be more opportunities to worship together this summer, to get to know one another better, and to experience some different styles of music and worship formats. Remember: the one-service schedule begins in June and continues throughout the summer. Until then, please join us at 8:30 a.m. or 11:00 a.m. for worship.